article
Statistics
What kind of information can I find in the event statistics?
After ending an event on the ClickMeeting platform, the system will create two types of PDF reports for you to download and analyze – basic and full report. Please remember that in some cases it might take up to one hour before the file will be ready for you to see.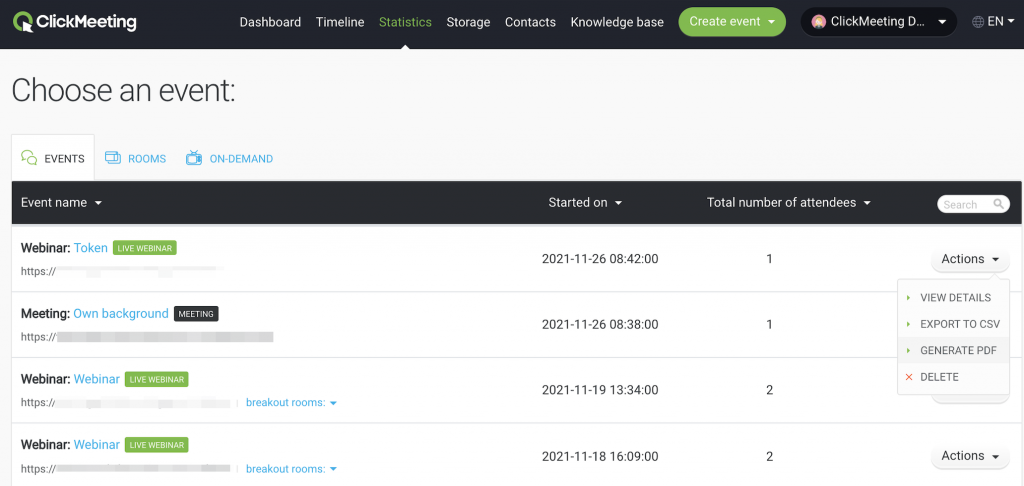 Both PDF reports can be found in the account panel in the Timeline section. To generate your report, please find the desired event on the Timeline and click the PDF report button underneath it. After a while, you will see two additional buttons Basic PDF report and Full PDF report. Click the one that interests you to download the report.
Please bear in mind that the basic PDF report only contains such information as a short event summary, number of attendees during the event, how they joined it, how they rated your event, where they are from, or which devices they used to see your presentation.
The full PDF report, besides the pieces of information mentioned above, also contains such elements as connection history, map location, how attendees voted or answered polls or surveys, and in which of your other events they took part.
At the moment, ClickMeeting allows you to create a few types of events which, for the sake of statistics, can be divided into live events (live webinars, planned meetings, Meet now), automated webinars, and on-demand webinars. The table below represents which elements can be found in which event report.
| | | | |
| --- | --- | --- | --- |
| | Live events | Automated webinar | On-demand webinar |
| Attendee list | Available | Available | Available |
| Registrant's summary | Available | Available | Available |
| Attendee's login | Available | Available | Available |
| Attendee's email address | Available | Available | Available |
| Registration summary | Available | Available | Available |
| Registration URL | Available | Available | Available |
| Log in time | Available | Available | Available |
| Log out time | Available | Available | Not available |
| Browser | Available | Available | Available |
| Localization | Available | Available | Available |
| Event's rating | Available | Available | Available |
| Certificate | Available | Available | Available |
| Poll and survey's results | Available | Available | Not available |
| Event's duration | Available | Available | Not available |
| Maximum attendees' number at the same time | Available | Available | Not available |
| Attendees in the waiting room | Available | Available | Not available |
| Attendees who dropped before the event | Available | Available | Not available |
| Number of visitors | Available | Available | Not available |
| Countries | Available | Available | Not available |
| Devices | Available | Available | Not available |
| Votes | Available | Available | Not available |
| All visits | Not available | Not available | Available |
| Unique number of attendees | Not available | Not available | Available |
| Chat logs | Available | Available, if the chat is enabled | Not available |
| Feedback from the on-demand webinar | Not available | Not available | Available |