article
Registration
Can attendees register for my events?
Yes, they can, but you need to enable it when creating an event. Go to the Registration tab and turn the registration button to the On position. First name and email address are required by default. If you want to add a new element from the list on the right-hand side, click it and drag and drop onto the registration page layout.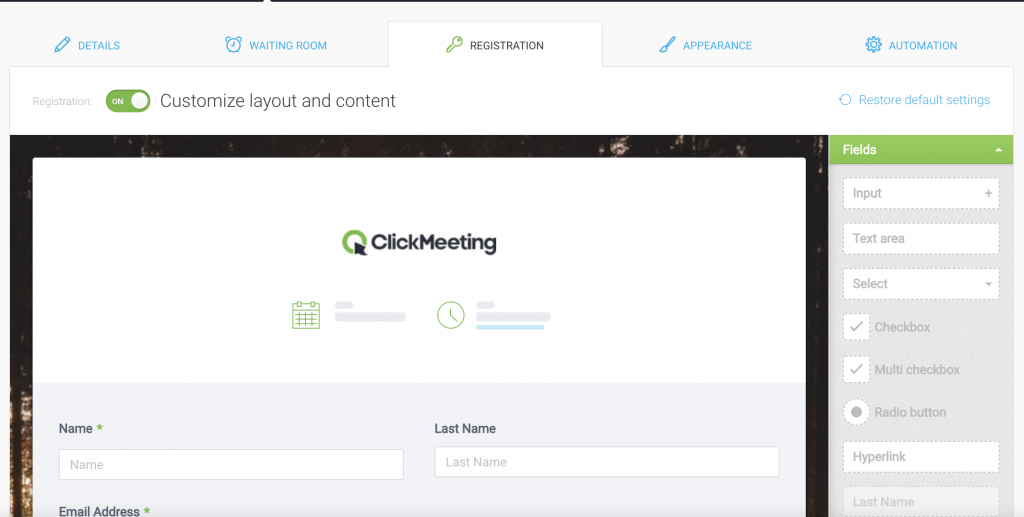 In order to obtain the room URL, your invitees need to find the invitation to registration in their mailbox and follow the link to the registration form. Once they have registered, they will receive the confirmation message with the room URL.
If you enable Registration, you'll know in advance how many people want to participate, so you can capture any additional information you need.
What are the benefits of registration?
Registration allows you to gain attendee data and manage your potential attendees. Enabling registration is also a good idea if you want to know how many people are interested in attending your upcoming event.
Note that registration is not active by default. Follow these steps to enable it.
What does the process of registration look like? 


Once registration is ON, your potential attendees are presented with a registration form that they need to complete to be able to join the event. The Name and Email address fields are required by default. You can add extra fields if you like.
Once registration is completed, each registered user receives a confirmation email with a personal link to join the event.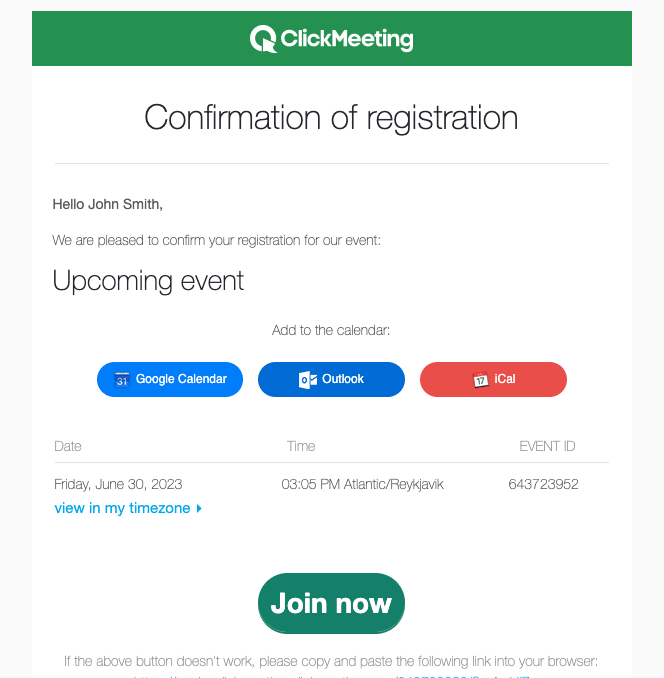 What can the host do once registration is enabled? 


Access the list of registered users
To access a list of users registered for your upcoming event, click Actions next to a given event in your Account panel, then go to Details → Registration. The list is being constantly updated with each new registration. Click Export to CSV or Export to XLS to download the list. To download the list after the event, go to Statistics. 
Deny event access to a given registered user
To delete an individual registration, click Actions next to the person's email in the registration list → Delete.
Once you delete someone's registration, their event link will become inactive and they will no longer have access to the event.
Import contact list (CSV)
Keep this feature in mind if you are using an external registration form and need attendees to receive a confirmation email with the event link from ClickMeeting. To use this feature, open the Registration tab of a given event and click Import contact list (CSV).

A confirmation of registration with the event access link will be emailed to each person from your contact list.
Manually confirm registered users
If you want to have full control over who receives access to your event after registration, you can manually confirm each registered user. To enable the Manual confirmation feature, click Actions next to a given event in your Dashboard → Edit → go the the Registration tab. Scroll down until you see Require my manual confirmation and toggle it on.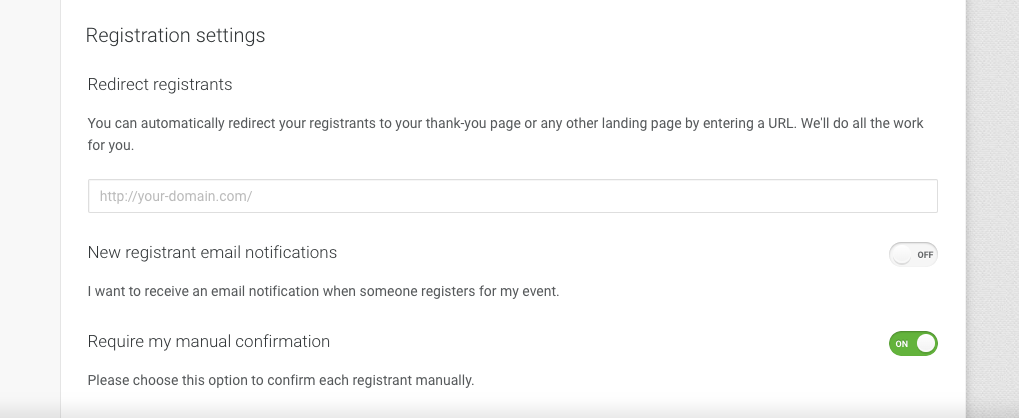 Note that the users who are pending approval will not be able to join the event before you accept their registration.
How can I customize my registration form?
You can edit the form and tailor it to your needs by adding
extra fields – each can be made required
hyperlinks to link a newsletter/privacy policy, among other things
additional information such as presenter profiles, an event agenda, text fields, a YouTube video
Note that registration confirmation emails cannot be edited.
Can I redirect my attendees to a website after the registration?
Yes, you can automatically redirect your participants to your thank-you page or any landing page by entering a URL in the Registration tab. Your attendees will be taken to that address as soon as they finish registering.