article
Right side menu
How do I set up my camera and sound?
After you log in to the webinar room, click the A/V Settings at the top of the window. Move the switch by Use Microphone and Use Camera to the ON position and choose your devices (alternatively, you can Use Avatar instead of video).
Depending on your pricing plan, you can also change your video quality from standard to high definition. If a pop-up window appears, click Allow to allow access to your equipment.
What does it mean that the audio and video pod is floating?
It means that you or your attendees can unpin the pod and pin it in your preferred location for better focus.
Please note that you cannot maximize the audio and video pod to the full screen. To enable it in the main presentation window, go to the Dashboard and enable AV View. Remember you can also pin your camera stream to the bottom, for a better focus on other presenters' or attendees' faces. To do so, click the appropriate icon available in your stream.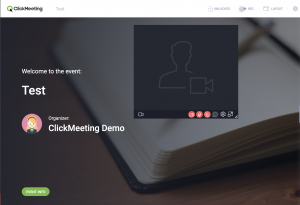 Can I use an avatar instead of a camera feed?
Yes, you can display an avatar instead of a camera feed. Click the Room info button in the top-right corner of the event room, then click the icon with your current avatar/initials. Choose an avatar from the list or upload your own image and click Apply.

Your avatar will be displayed instead of your camera feed once you enable the microphone.
Please note that the avatar feature can be used only by hosts and presenters.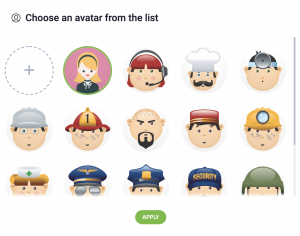 Managing attendee audio and video permissions
During meetings attendees have microphone and camera permissions by default. These cannot be revoked by the host or presenters. Up to 40 microphones and cameras can be active at the same time.
During webinars a host or presenters can give an attendee permission to enable microphone and/or camera. Up to 8 cameras and microphones can be active at the same time.
In Edu Mode attendees have camera permission by default that cannot be revoked by the host or presenters. They can give an attendee permission to enable microphone.
To give an attendee microphone permission, click on their name in the Attendee list. You will see a toggle button in Attendee details: Allow to turn on microphone. Toggle the switch to the ON position to allow the attendee to enable their microphone. If you want them to be able to turn their camera on, toggle Allow to turn on camera to the ON position.
If any of these toggle buttons are ON and not clickable, this means the audio and/or video permission is granted by default (e.g. camera permission in Edu mode), hence This option is not available for this user displayed when hovering over the toggle button.
Once an attendee has been allowed access to microphone and has enabled the device, the host or presenter can disable it by clicking Mute microphone under the Allow to turn on microphone toggle button. With some attendees forgetting to mute their mic after they have finished speaking and accidentally generating echo, this feature comes in really handy. Similarly, you can disable attendee's camera by clicking Stop stream under Allow to turn on camera. Please note that muting attendee's microphone or disabling their camera does not revoke a permission to enable audio and/or video granted by the host or presenter. To revoke that permission, enter Attendee details and toggle the switch (Allow to turn on microphone and/or Allow to turn on camera) to the OFF position.
Alternatively, you can mute attendee's microphone by clicking on the mic icon displayed in their AV stream. The Mute microphone and Stop stream icons are also accessible next to each attendee in the Attendee list directly.
Please note that once an audio/video permission has been granted to an attendee, they will keep it with any event type changes. E.g. if someone is granted audio permission in Edu mode, they will not lose this permission after the event has been changed into a Webinar.
In the webinar room, can I change someone from an attendee to a presenter?
Yes. Click the person's name on the Attendees list and choose Make Presenter. The newly assigned presenter will be able to speak to everyone and share a presentation.

How does the chat in the event room work?
The chat window available in the right-bottom corner of the event room allows the organizer, presenters, and attendees to collaborate with each other by typing the messages. It also enables the speakers to send the audience an insightful link, inform them about important matters, or start a simple conversation. The options of the chat are limitless, and it is up to you how you will make use of them.
To type any message in the chat window, click on the typing bar and start writing your message. To send it to your audience, click Enter on your keyboard. You can also add emojis to your message to make it more interactive and better express your emotions. Click the little emoji icon available in the bar to choose between hundreds of smiles or emoticons as well as set up your status – Raise hand or I need help. The status will appear in the attendee list next to the camera and microphone icon. To clear your current status, get back to your chat window, click the emoji icon again and choose Clear my status.
Also in the same chat window, you can click the paperclip icon to attach any file to your conversation. Find the right file on the list or upload it directly from your device. Remember that the file cannot be bigger than 500 MB. You can add a maximum of 5 files at a time for your attendees to download on their personal computers.
A new tab, Shared files, will appear in the chat window to make the downloading process easier for attendees. They will find there all of the shared documents, as well as more tabs dedicated to presentations, images, videos, audio files, or others only. The attendees can download them on their computer, and you, as a presenter, can display the shared file on the main screen, pin it to the top (as every other message that's worth noticing), or reply to it if needed. Replying to the messages in the chat window allows attendees to know what everyone is answering to, so the flow of the conversation is uninterrupted.
Click the gear icon in the chat window to see more helpful options. Decide if you want to enable the chat window for your attendees or shut it down completely. You can also decide which content will be visible to your audience by choosing the moderated chat option. That way, only chosen messages will appear in the chat window. We also highly recommended asking another presenter to manage the chat moderation on your behalf while you deliver your presentation.
If you wish to make your chat a little bit more lively, you can also enable sound notifications, show timestamps, or change the font size. These settings can be managed by each of the users individually, so they can decide how the chat should look on their end.
If you host events for multinational audiences, consider using a simultaneous translation of chat messages. Your attendees can choose one of 52 available languages and understand the conversation in their native language. The translations are immediately ready and visible in the chat window.
At the end of the event, you can also export the chat history manually as TXT, XML, or CSV files and get back to it right after leaving the event room. If you do not do that, you do not need to worry. All chat conversations are saved automatically within your account panel in the Storage and Chat and Q&A logs section.
How do I save chat sessions from my event?
Chat sessions are saved automatically. You can access them in your account panel under Storage → Chat and Q&A logs. Alternatively, you can export them during an event from the Chat settings in the event room.
How do I use simultaneous chat translation?
Click the options icon in the lower-right corner of the chat window ("wheel") and select language by Translations. Your chat will be automatically translated whenever a new message is posted in the chat pod.
What hotkeys can I use during my online events?
To display a list of keyboard shortcuts, join an event room and press Cmd+ / (for macOS) or Alt L + / (for Windows). Alternatively, enter the Event board tab in the top right corner of the event room and click the Hotkeys tab.
Keyboard shortcuts allow you to navigate the event room without using your mouse. Availability of options may depend on your role and/or permissions during the event.
Can I manage my video aspect ratio in ClickMeeting?
ClickMeeting Live and Automated plans allow you to choose between a default 16:9 ratio (widescreen) and a 4:3 ratio. You can manage your video aspect ratio in the AV settings of the event room.
Due to technical limitations the 16:9 ratio is not supported in Firefox.
Note that 4:3 is the only option available when you enable your camera in the ClickMeeting mobile app or in a mobile browser. If someone using a computer/laptop enables the 16:9 ratio, though, your mobile device will reflect that.
What is Audio Only used for?
Once you enable Audio Only, you stop receiving other participants' video streams. Other people's video streams will remain active, though, and they will continue seeing you if your video stream is enabled.
The Audio Only mode will come in handy if your Internet connection is weak/unstable during an online ClickMeeting event.
To enable this mode, click in the gear icon in the AV pod and toggle Audio Only ON.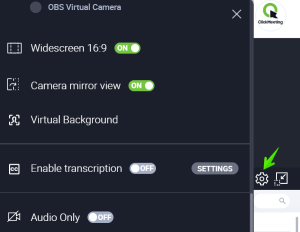 How do I enable virtual background?
Virtual background is off by default. To enable it, enter the event room, click in the gear icon in the AV pod and click on Virtual background. Choose a preferred background from the library or use the blur option and click Apply.
Note that virtual background is not available when using the Safari browser.