article
Left side menu
Can my attendees collaborate during the event?
Yes, by using the Whiteboard tool. Collaborate with unlimited space and unlimited number of pages.
You can collaborate with up to 40 people. Once collaboration mode is enabled by the host or presenter, attendees can start using various whiteboard tools:
add sticky notes
add shapes
add text
put grid lines on the whiteboard
draw with the pencil tool
change the pencil size and color
Participants can use keyboard shortcuts for quick navigation.
When hosting an event, you can switch to another tab (e.g. Presentation) and then get back to Whiteboard without losing any changes. The host and presenters can clear the whiteboard if necessary. Once collaboration is ended, they can save the whiteboard as jpeg/png.
Be sure to save the whiteboard before ending the event if you need to save the effects of your collaboration. Note that you cannot access and continue working on a whiteboard after you have ended the event and closed the room.
Whiteboard is included in Live and Automated plans. You can also test it in the free trial of ClickMeeting. It is available in all event types: meetings, webinars, Edu mode and private mode.
To use the Whiteboard tool, you need the latest version of Google Chrome, Mozilla Firefox, Safari, Edge (Chromium), Yandex or Opera, as well as the latest version of Windows or MacOS.
If you are using the ClickMeeting mobile app or a mobile browser to join a ClickMeeting event, keep in mind that Whiteboard is available in view-only mode, so you won't be able to add or edit content.
Whiteboard navigation
When using a mouse: right click and drag to move around the whiteboard. Use the scroll wheel for vertical scrolling. For horizontal scrolling press and hold Shift and use the scroll wheel.
When using a touchpad: swipe with two fingers to move around the whiteboard.
How to zoom in/out
To zoom in/out, click +/- in the bottom right corner of the whiteboard: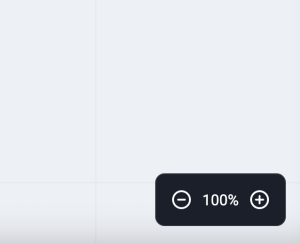 Alternatively, use the scroll wheel and press & hold Alt to zoom in/out on Windows.
For macOS: use the scroll wheel and press & hold Option to zoom in/out.
If you are using a touchpad, pinch to zoom in/out. Double click on % to go back to 100%.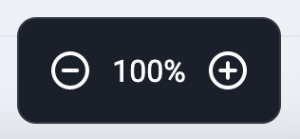 Minimap: in the bottom corner of the whiteboard you can now see a preview of the entire project, making it easier for you to navigate through it.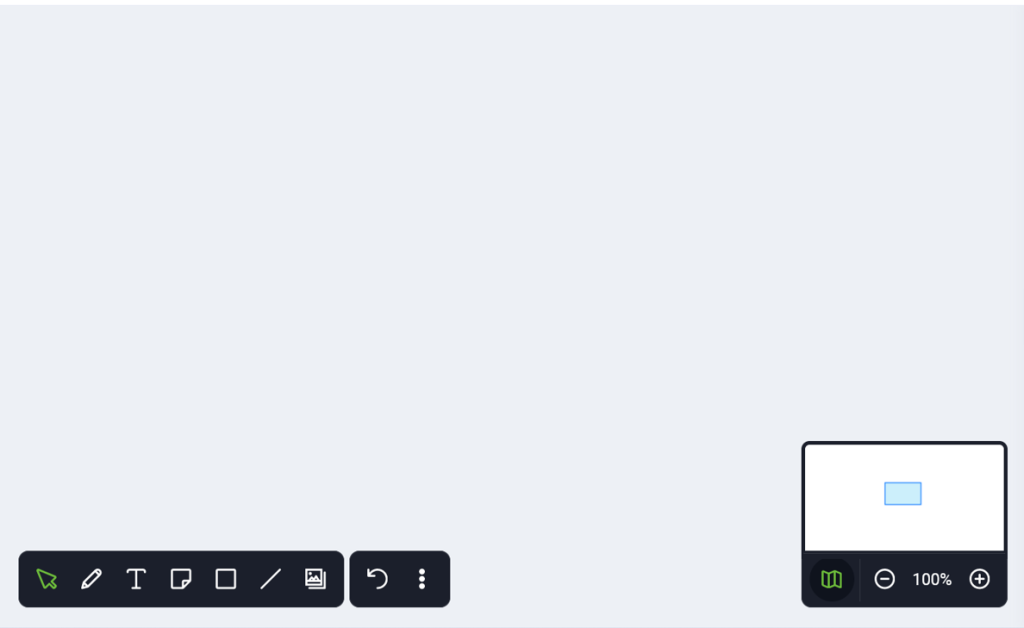 Use the Follow me feature to easily keep your event participants focused when using the Whiteboard. To enable it, open the Whiteboard and click the three dots menu.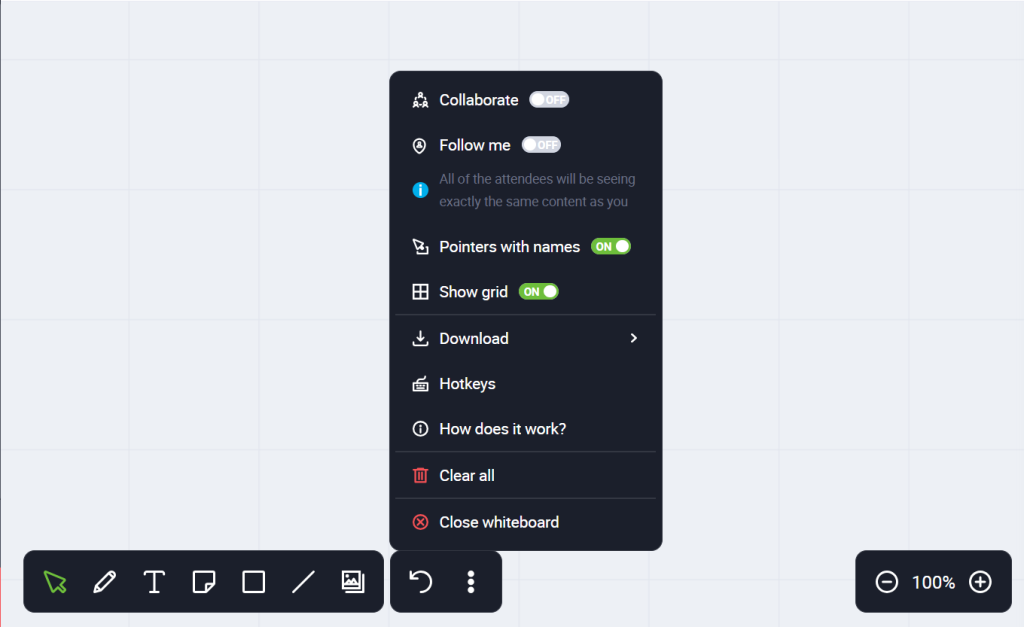 This feature is available for hosts and presenters only and can be used by one person at a time (first come, first served). The button is greyed out until someone stops using the feature and disables it.
Once Follow me is enabled, participants will be seeing what the person who is using this feature is seeing. A recording of the event will reflect that. While Follow me is on, attendees cannot move around the Whiteboard on their own. They can still use all the tools available in the collaboration mode as long as collaboration has been enabled.
Can I play a video for my attendees?
Yes, there are two methods:
1. Use the YouTube feature in the Dashboard on the left-hand side of the webinar room to play any video hosted on YouTube.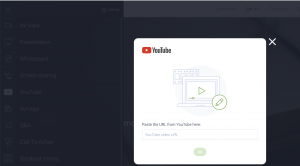 2. Upload one or more videos into the Presentation feature available in the Dashboard. To play an uploaded video during an event, click the Presentation icon in the Dashboard and choose the video.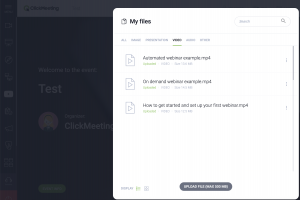 What is the Call-To-Action feature and how does it work?
The Call-To-Action feature is a customizable pop-up you can display at any time during your event. It includes a message, a button, and a graphic to redirect attendees to a website of your choice. It's a great way to capitalize on audience engagement, present an external source, or make instant sales.
To set up this feature, enter your event room, go to the Menu on the left side of the screen, and click the Call-To-Action feature.
Enter a description of the action you want your audience to take (the characters limit is about 75 characters) and the text to display on the button. Add the URL address of a website of your choice to redirect there your attendees. You can also specify how long the pop-up should be visible. When you're ready, click Create.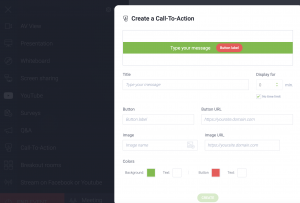 To disable the pop-up at any time, click the X icon next to it.
Watch our video tutorial to see how it works.
What types of events can I schedule on the ClickMeeting platform?
The ClickMeeting platform is a perfect solution for any kind of event. It allows you to create webinars for bigger audiences where you can gather as many attendees as your subscription plan allows you to, or create smaller meetings where you speak, see and listen to up to 25 people at a time.
A live webinar is a great option to spontaneously go live if you would like to discuss some topics with up to 1000 audience members. Choose a specific date and hour of conference, classes, or lecture and interact with your attendees in real-time.
An on-demand webinar lets you share your pre-recorded event with people to watch it at their own pace. Record your sessions and send the URLs to your audience so they can get back to them whenever possible and be redirected to a website of your choice via the Call-To-Action button.
With an automated webinar, you can capture your classes or product demos and present it to your attendees at a chosen date and hour without having to endlessly repeat the process of hosting a live event. Run your events on autopilot and save time along the way. Include additional videos, surveys, or a Call-To-Action button to keep your audience engaged.
A planned meeting will let you collaborate with a small group of up to 25 people. Use this option if you want to host small team meetings and see, hear, and talk to all your coworkers, students, or trainees at the same time!
Meet now! The name speaks for itself. Simply, organize a meeting here and now with up to 25 people and discuss issues, problems, and inquiries on the go!
Huge virtual events, in other words, webcasts. Allow even up to 10,000 people to watch your events and take advantage of your knowledge. Please note a difference between a webinar or an online meeting attendee and a webcast viewer. The last one can only watch the event without a two-way interaction. This solution goes beyond our standard pricing. Make sure to contact our Sales team for more details and a quote.
Please remember that each of the above-described types of events (besides the Meet now option) can also be set up as a paid event, meaning that your attendees will first need to purchase a ticket before they join your webinar or meeting.
To help students stay focused, consider integrating Edu mode into your online presentations and classes. Edu mode can be enabled during meetings and webinars with up to 25 participants. Once enabled, presenters will see all the event attendees, while the attendees will only see the presenters and not one another. Presenter can ask an attendee (or multiple attendees) to speak to the entire group.
During each of the live events, i.e., a live webinar, a scheduled meeting, or a spontaneous Meet now session, you can enable the private mode and treat it as a break for both presenters and attendees. We strongly recommend that you prepare an appropriate slide informing attendees about the current break or display such information on the banner using the Call-To-Action button.
Remember that the maximum event duration time is 14 hours. After this time, the event will end automatically.
How do I end an event?
Click the End event button available in the bottom-left corner of the event room. Choose Exit myself to leave the room and keep it open for attendees who are still downloading files, chatting, or reviewing media. Choose End event to completely close the event window for all people who joined it.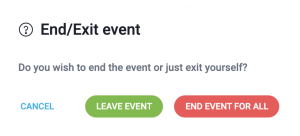 Is it possible to save the room set-up before going live?
Yes, you are enabled to prepare the room set-up before actually starting your event. After joining the webinar room please, choose the Prepare event button to get ready for the event. That way, you can upload your presentation, video, or any other piece of content into the event room, save the settings, and close the window, without worrying it all disappears.
Simply join the event room of your choice and prepare all the elements that are crucial for your conference. Upload files and choose how they ought to be displayed.
The layout of the event room is in your hands. That's why you are also able to choose how it looks on your and your audience's side. With the layout synchronization, you can dock the AV pod to the upper right corner of the screen or undock it and leave it as a small window. You can also completely hide the AV pod and leave the bar with microphone and camera icons only, hide the right-side panel or expand it, as well as stretch the chatbox vertically.
Decide if you would like to synchronize the layout or not by clicking on the synchronization switch available in the top bar of the room. After switching it on, you and your viewers will have the same layout displayed on the screens.
After choosing the right tools to be ready for you or your co-presenters in advance, remember to save your settings. After doing so, even if you close the tab in your browser, your settings will remain as you have set them up earlier.

Live stream to YouTube or Facebook
You can set up YouTube or Facebook live streaming for your upcoming event directly in the event room. If you have purchased an Automated plan, you can also configure automatic streaming to YouTube or Facebook in the Automation tab of an individual event. Once you choose to auto-stream an event to YouTube or Facebook, the streaming will begin as soon as you start the event.
When setting up a live stream, please remember to start a live broadcast in YouTube/Facebook settings, not just in your ClickMeeting event room.
Please note that each event can be live streamed to one social media at a time (either YouTube or Facebook).
When using Facebook live streaming, you can stream to your personal profile/your fanpage/an open or a closed group.
Can I host a webinar with simultaneous interpreting on ClickMeeting?
Simultaneous translation is a type of interpreting that occurs simultaneously while a presenter is speaking (e.g. a presentation is being delivered in English and is being translated into Polish in real-time for the Polish-speaking audience). It is commonly used at international conferences, meetings, training sessions, cultural events, etc.
To run an event with simultaneous interpreting on ClickMeeting, use RTMP live streaming. Contact our Sales team for more details.