What is the Call To Action feature and how does it work?
The Call To Action feature is a customizable pop-up you can display anytime during your webinar. It includes a message and a button to redirect attendees to a custom web page. It's a great way to capitalize on audience engagement, present an external source, or make instant sales.
To set up this feature, go to the share pod of your webinar room and click the plus sign. Select Create Call To Action from the menu: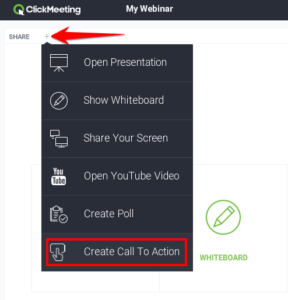 Enter a description of the action you want your audience to take (up to 54 characters with spaces)[1] and the text to display on the button [2]. Add the URL of the custom web page for audience redirect [3]. You can also specify how long the pop-up will appear (1-7 minutes) [4]. When you're done, click Display for all [5].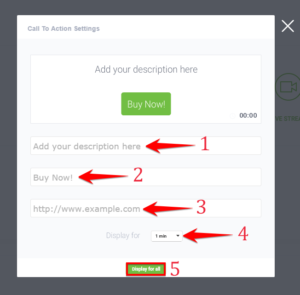 To disable the pop-up at any time, click Hide for all.