article
Live webinars
What is a webinar?
A webinar is a seminar conducted on the Internet (from web + seminar). Webinars are also called web conferences, video conferences, or webcasts. They allow users in different parts of the world to see, hear, and interact with the presenters, ask questions, respond to surveys, etc. Webinars are commonly used in sales, marketing, education sectors, or employee training sessions.
What is a webinar and how does it work?
When organizing a webinar, we want to primarily reach a dispersed group of people and offer them specific content and knowledge. These can be sales leads or actual customers, as well as students, participants of training sessions, or employees of huge companies with branches scattered around the country – or the world.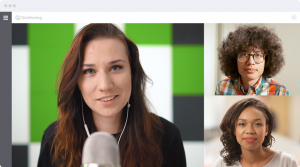 A webinar is much more than just a regular online meeting. It is a form of interactive marketing communication filled with multimedia, which has become a permanent part of the landscape of every industry operating on the Internet.
The core of an exemplary webinar is a presentation with valuable content for the participants. These are presentation slides during which the organizer discusses a topic, or video materials which the organizer can include in the webinar program.
Webinar and its interactivity
When answering the question, "What is a webinar?", it is impossible not to pay attention to its functionality. On the one hand, they help to substitute a traditional meeting. On the other hand, they allow realistic and effective knowledge sharing.
Screen Sharing – true magic provided by a high-tech webinar platform. With this feature, participants can see exactly what the organizer wants to present by sharing their entire screen or only a part of it.
Whiteboard – sometimes, it's better to visualize a complicated process or topic. With this feature, the organizer can outline a chart or illustrate the ideas.
Surveys – the perfect way to check your webinar participants' knowledge. The results serve as a source of knowledge and guidance for upcoming webinars.
Chat – an ideal tool created for building stronger relationships with your webinar participants and providing answers in real-time.
To create a webinar, log in to your account and click the "Schedule event" button available on the dashboard. Provide the title, choose the date and other important elements in the remaining tabs. In the last tab, click on the switch button and choose whether to set up the event as a meeting (up to 40 attendees, including presenters and host) or a webinar (the capacity of the webinar room depends on the plan you have purchased). Remember that the maximum event duration time is 14 hours. After this time, the event will end automatically.
What types of events can I schedule on the ClickMeeting platform?
The ClickMeeting platform is a perfect solution for any kind of event. It allows you to create webinars for bigger audiences where you can gather as many attendees as your subscription plan allows you to, or create smaller meetings where you speak, see and listen to up to 40 people at a time.
A live webinar is a great option to spontaneously go live if you would like to discuss some topics with up to 1000 audience members. Choose a specific date and hour of conference, classes, or lecture and interact with your attendees in real-time.

An on-demand webinar lets you share your pre-recorded event with people to watch it at their own pace. Record your sessions and send the URLs to your audience so they can get back to them whenever possible and be redirected to a website of your choice via the Call-To-Action button.

With an automated webinar, you can capture your classes or product demos and present it to your attendees at a chosen date and hour without having to endlessly repeat the process of hosting a live event. Run your events on autopilot and save time along the way. Include additional videos, surveys, or a Call-To-Action button to keep your audience engaged.

A planned meeting will let you collaborate with a small group of up to 40 people. Use this option if you want to host small team meetings and see, hear, and talk to all your coworkers, students, or trainees at the same time!
Meet now! The name speaks for itself. Host a meeting here and now with up to 40 people and discuss issues, problems, and inquiries on the go!

Huge virtual events, in other words, webcasts. Allow even up to 10,000 people to watch your events and take advantage of your knowledge. Please note a difference between a webinar or an online meeting attendee and a webcast viewer. The last one can only watch the event without a two-way interaction. This solution goes beyond our standard pricing. Make sure to contact our Sales team for more details and a quote.
Please remember that each of the above-described types of events (besides the Meet now option) can also be set up as a paid event, meaning that your attendees will first need to purchase a ticket before they join your webinar or meeting.
To help students stay focused, consider integrating Edu mode into your online presentations and classes. Edu mode can be enabled during meetings and webinars with up to 40 participants. Once enabled, presenters will see all the event attendees, while the attendees will only see the presenters and not one another. Presenter can ask an attendee (or multiple attendees) to speak to the entire group.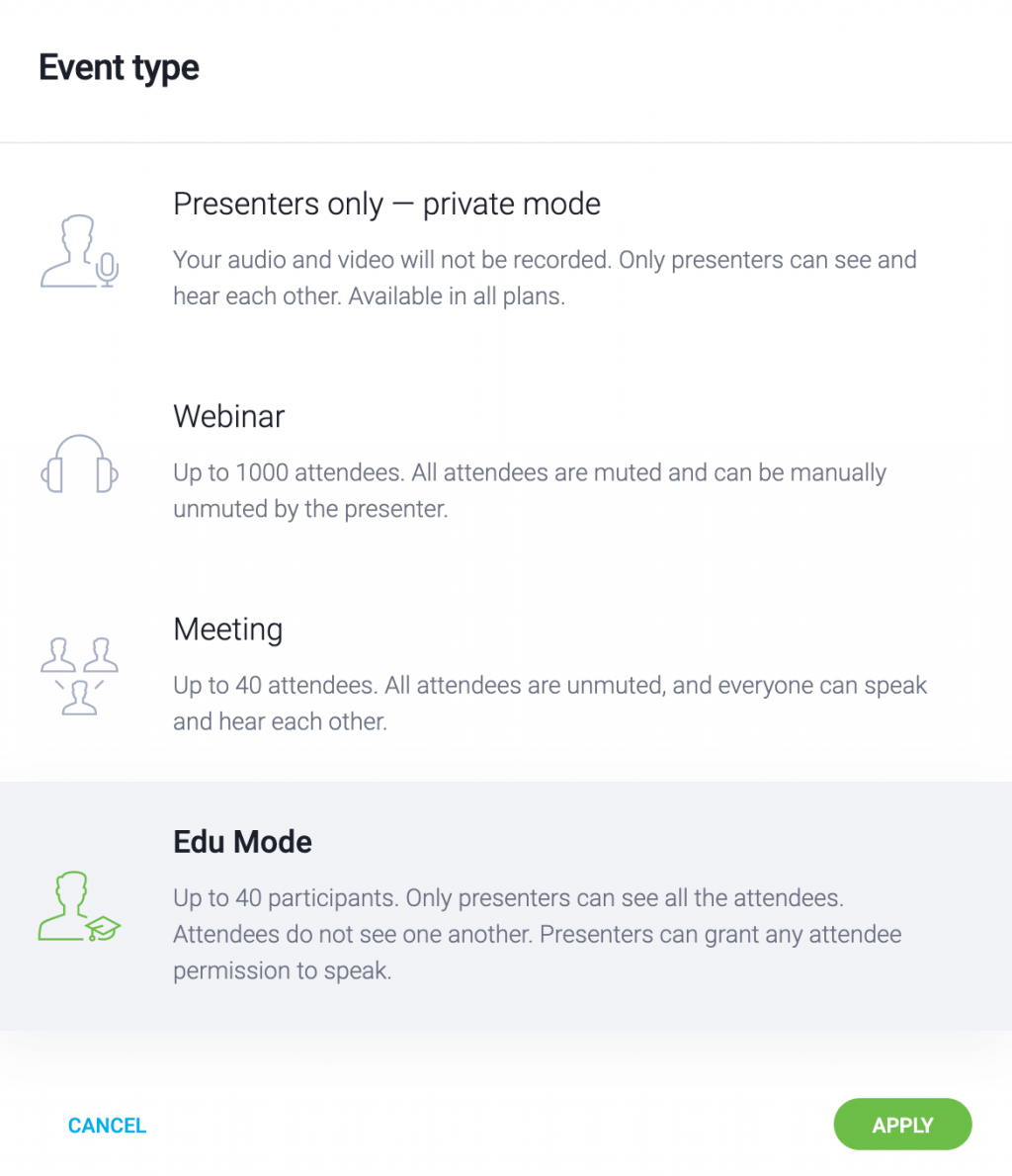 During each of the live events, i.e., a live webinar, a scheduled meeting, or a spontaneous Meet now session, you can enable the private mode and treat it as a break for both presenters and attendees.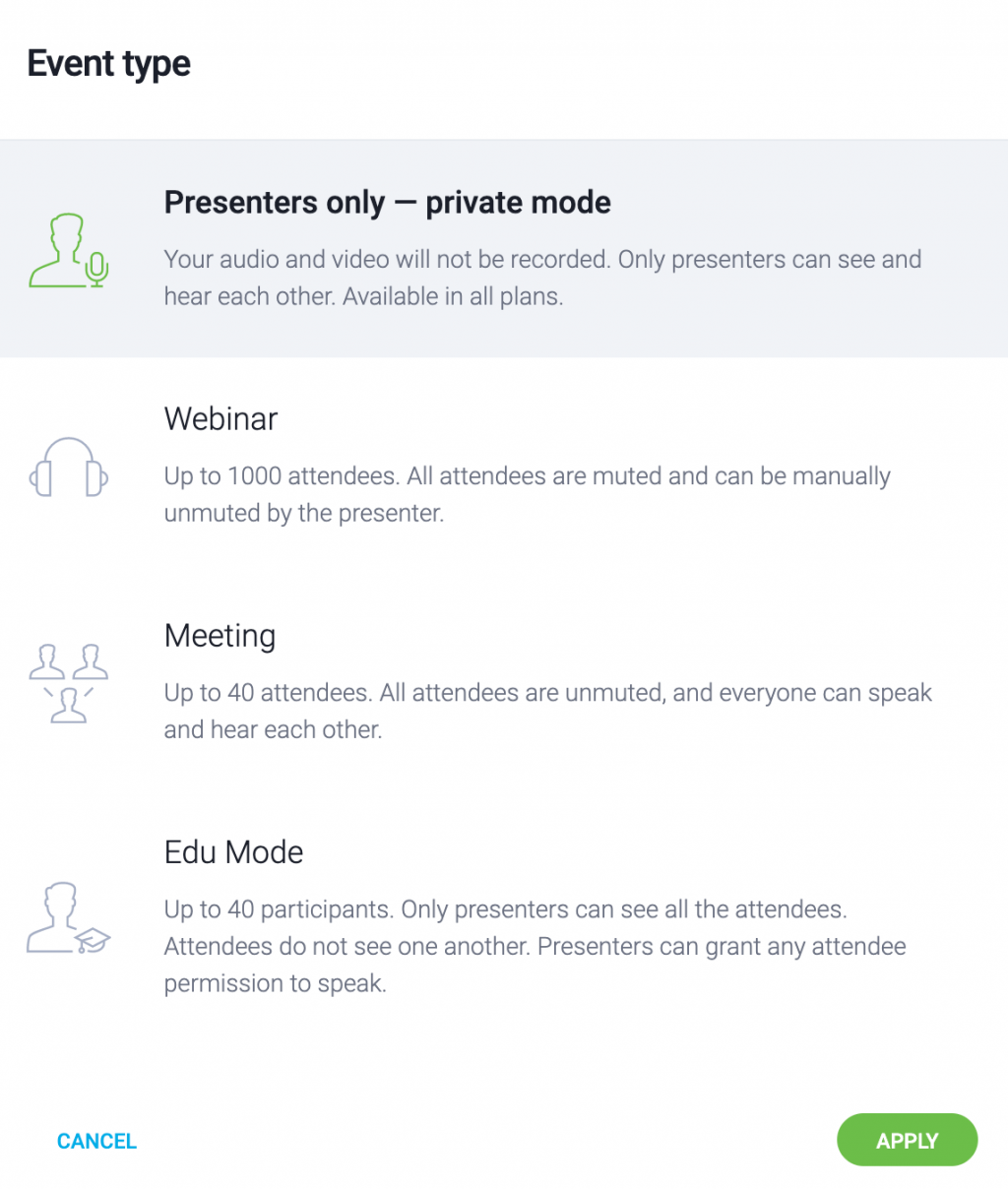 We strongly recommend that you prepare an appropriate slide informing attendees about the current break or display such information on the banner using the Call-To-Action button.
Remember that the maximum event duration time is 14 hours. After this time, the event will end automatically.