What is a webinar?
A webinar is a seminar conducted on the Internet (from web + seminar). Webinars are also called web conferences, video conferences or webcasts. They allow users in different parts of the world to see, hear and interact with the presenters, ask questions, respond to surveys, etc. Webinars are commonly used in sales, marketing, education sectors, or an employee's training sessions.
What is a webinar and how does it work?
When organizing a webinar, we want to primarily reach a dispersed group of people and offer them specific content and knowledge. These can be sales leads or actual customers, as well as students, participants of training sessions or employees of huge companies with branches scattered around the country – or the world.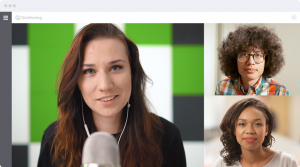 A webinar is much more than just a regular online meeting. It is a form of interactive marketing communication filled with multimedia, which has become a permanent part of the landscape of every industry operating on the Internet.
The core of an exemplary webinar is a presentation with valuable content for the meeting's participants. These are presentation slides during which the organizer discusses a topic or video materials which the organizer can include in the webinar program.
Webinar and its interactivity
When answering the question, "What is a webinar?", it is impossible not to pay attention to its functionality. On the one hand, they help to substitute a traditional meeting. On the other hand, they allow realistic and effective knowledge sharing.
Desktop Sharing – true magic provided by a high-tech webinar platform. With this feature, participants can see exactly what the organizer wants to present by sharing their entire screen or only a part of it.
Whiteboard – sometimes, it's better to visualize a complicated process or topic. With this feature, the organizer can outline a chart or illustrate the ideas.
Surveys – the perfect way to check your webinar participants' knowledge. The results serve as a source of knowledge and guidance for upcoming webinars.
Chat – an ideal tool created for building stronger relationships with your webinar participants and providing answers in real-time.